Atlas InSAR monitoring studies provide regular and flexible updates of ground and structural motion measurements during the construction, operation and maintenance phase of any site or project.
From weekly to monthly, quaterly or yearly, the frequency of ground motion measurement can be easily adapted to the criticality of the project phase and project specific requirements and can be readjusted at any time.
Atlas InSAR provides customised services, from rapid bulletins providing a quick overview of latest measurements to comprehensive studies following milimetric deformation associated to tunnelling advancements.
Atlas InSAR is a robust, efficient and cost-effective monitoring solution to minimise and mitigate geotechnical risks.
Measuring ground motion from space
Thanks to InSAR technology (Interferometric Synthetic Aperture Radar), the Atlas satellite solution allows for millimetric-precision measurements of ground, buildings or construction sites.
Measurements obtained from satellite cover vast areas without an on-the-ground intervention.
They provide a detailed analysis of the deformations on the terrain, which can be due to works carried out on it or other such events, understanding of the impacted area.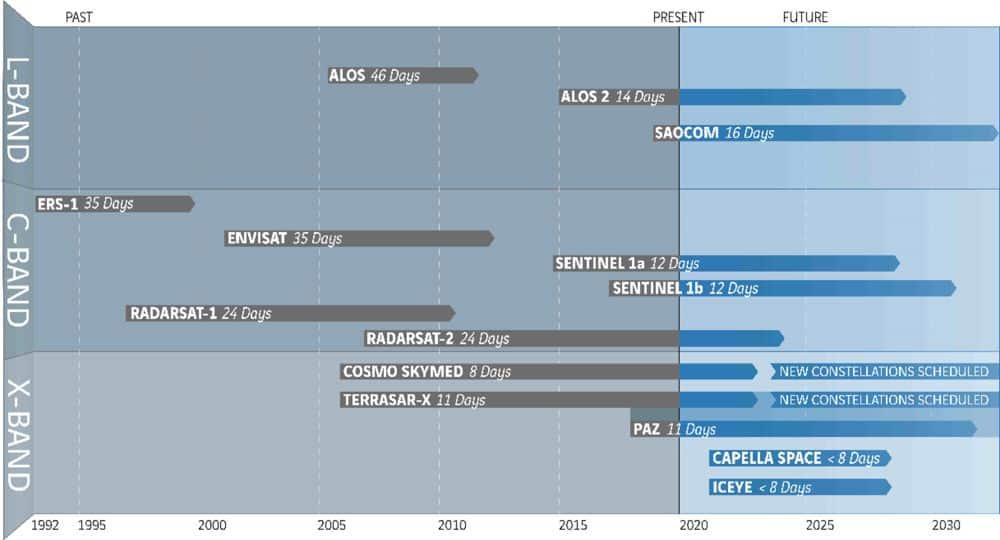 Our Atlas InSAR advanced processing chain can work with any current Satellite SAR Images.
Sixense teams can task SAR Satellites to acquire images over any site every few days to develop customised monitoring programmes designed to provide ground and asset motion information.
Different Satellites will be tasked depending on site and motion characteristics.
Atlas InSAR can work with X, C or L band to ensure the best information is used on each project.
New constellations are being launched and very soon daily imagery will be available for real-time satellite monitoring programmes at a fraction of the cost of traditional monitoring.
Download the Atlas InSAR solution datasheet